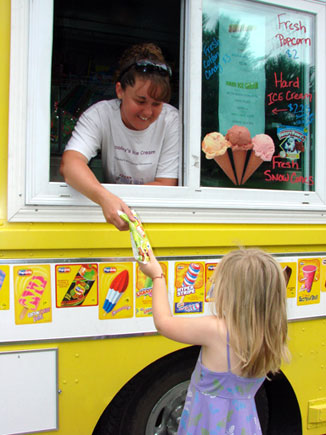 Cooley's Ice Cream Truck has been serving the Warren County and Washington County area of Upstate New York since 2010. The independent and locally owned Cooley's has been a staple at community functions, holiday celebrations and the side streets of the area.
Known by the unmistakable bright yellow truck, Cooley's carries more than just ice cream novelties, and buys all product fresh and locally. Cooley's Ice Cream Truck is the perfect treat at family reunions, birthday parties, corporate events, city and town celebrations, school functions, holiday events and any other private function where you need smiles and treats!
In 2017, Cooley's expanded with a soft serve concession trailer. The trailer will offer your traditional soft serve cones, sundaes, frappes, milkshakes and floats. This trailer is perfect for street events and festivals. As of 2019, you can find our soft serve trailer at 143 Broad Street, Glens Falls!
For any questions regarding private parties just Contact Us!